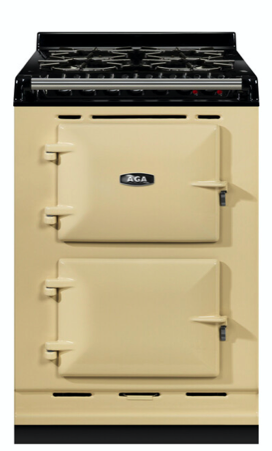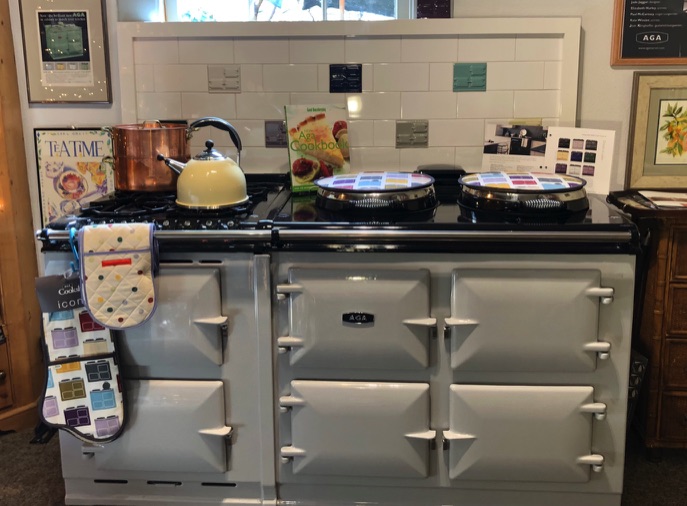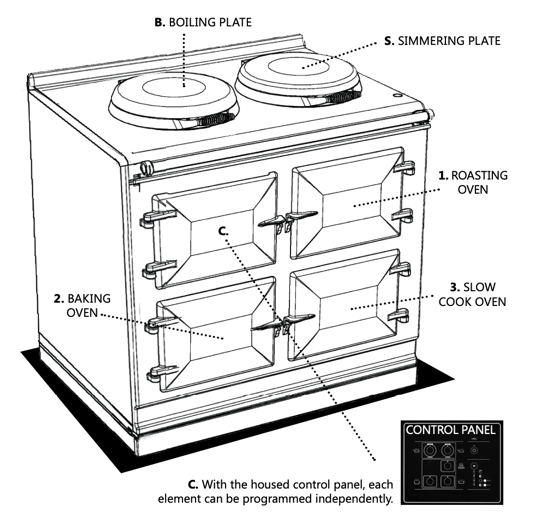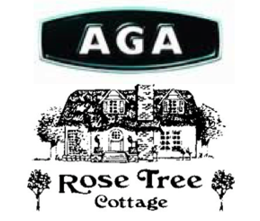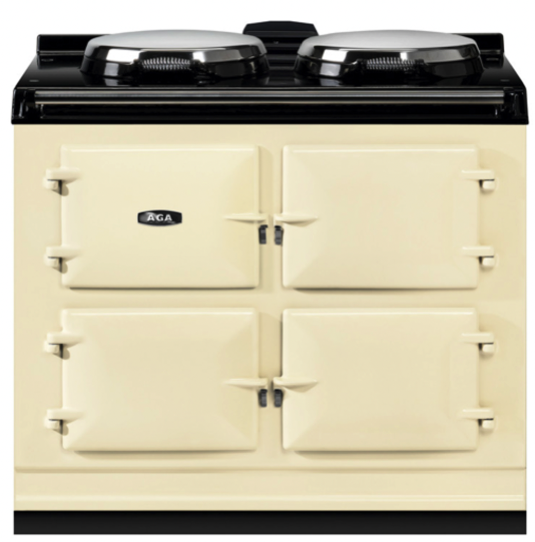 On display
at Rose Tree Cottage:
The Three-Oven AGA Total Control Cooker to the right  (Note: (Four doors — three ovens plus a single control panel door - see diagram below).the optional AGA Module is the two door model to the left which
sits beside.
Make an appointment today to come in and enjoy a demonstration and/or to discuss all there is to discuss about using and/or owning your very own AGA. Call (626) 793-3337
The AGA Total Control Stove
Cast Iron radiant heat cooking throughout each oven and both hotplates providing 10 Cooking Methods in one range
Independent electric heating elements embedded in each cast iron oven and hotplate give the ability to operate each oven and hotplate separately and independent from each other
Three Large Capacity Multi-Function Cast Iron Ovens
Roasting oven (approx. 425°F - 475°F)
Baking oven (approx. 325°F- 375°F)
Slow Cook oven (approx. 212°F - 245°F)
Ovens take about an hour to reach full temperature
Programmable digital remote control handset with up to two
cooking cycles per day, seven days a week
Two 14½" diameter Cast Iron Hotplates
Boiling hotplate (626°F)
Simmering hotplate (392°F)
Hotplates take about 11 minutes to reach full temperature
Hotplates can accommodate extra-large pans or may be used as griddle cooking surface
State-of-the-art touchscreen controls for multi-function flexibility
Range may be turned off and does not need to be on all the time like the traditional AGA range
AGA Modules
Extend the versatility of your AGA cooker by adding an AGA Module -which can be either integrated with your main AGA or freestanding in your kitchen.
AGA Modules are conventional cookers offering a range of cooking options including; a slow cook oven and integral grill, a fan oven, and a four-zone gas or electric ceramic hob.
Modules are built with the same care and attention to detail as your main AGA cooker and are available in the same vitreous enamel colour options.